One of these things is not like the other
Two pictures of two demonstrations in Beirut. Let's play, spot the
"focus group."
In one,
25,000
protested the presence of Syrian troops in Lebanon, prompting the government to resign. In the other, a
conservatively
estimated
500,000
- possibly as many as
1.5 million
- protested US interference in Lebanese affairs, prompting accusations that the whole thing must be a massive hoax.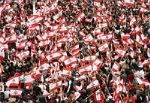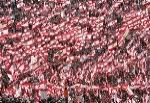 Naturally, to those with no sense of irony - or perhaps a sinister irony, not for public display - who solemnly nod as their President
gurgles
that democracy cannot succeed when a nation is "occupied by a foreign power," the pro-Syria
"mob"
must have been
"staged."
It's the only explanation when "democracy's on the march," the will of the people be damned.
Similar virtual crowd control was evidenced in the corporate spin of the oligarch's failed anti-Chavez campaign. Anti-government demonstrations were regarded as displaying Venezuelans' - judging by the photos, chiefly the
light-skinned
Venezuelans' - frustrations with the "strong man." Massive pro-Chavez rallies were shrugged off as "government-staged." We saw last year in Haiti, too, when anti-Aristide violence was beatified by the State Department, providing the Bush White House the pretext to hustle the meddlesome priest out of the country in order to "restore stability." Now, Haiti's democracy is lost, and peaceful and huge pro-Aristide demonstrations are
fired upon
with impunity, and without much attention from the American press.
March 19, millions will again take to the streets to protest the bloody occupation of Iraq, and on March 20 it will be as though it never happened. On February 15, 2003, the global anti-war demonstrations were said to represent the birth of a new superpower. Not until people take the streets, and refuse to give them back, will that be found true.