On the Job, on the Square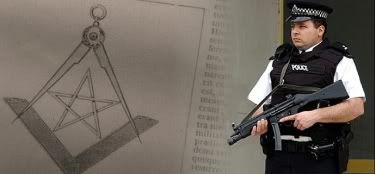 In the courtroom of honor, the judge pounded his gavel
To show that all's equal and that the courts are on the level - Bob Dylan
It seems to me much of the
speculation
concerning the Stockwell atrocity still plays a version of Blame the Victim:
What
did Jean Charles de Menezes know that made him a target?
Who
did he know? If he wasn't a terrorist,
what else was he
that would provoke plainclothed Special Forces to restrain him and pump seven bullets in the back of his head?
Sometimes - often - it's in that direction the truth lies. (Poor Nick Berg, for instance, didn't simply get unlucky.) But I don't think so this time. This wasn't a hit to take out a Brazilian contract engineer. If it were, I imagine it would have been done either much more quietly, or with the foresight to plant damning evidence in his flat.
The very bloody and public murder seems a demonstration, but of what, and to whom? If there were a motive - if it wasn't just a bizarre sequence of tragic events (and anyone who's lived long enough should concede that such things happen, too) - then it has nothing to do with the unfortunate de Menezes. It must reside elsewhere, in a place that may seem to us like madness.
This is a British story, and Britain is a land that hasn't forgotten how weird it is. Drive a modern highway in southern England for any distance and you'll pass standing stones, ancient mounds, chalk figures and crop circles. More so than in the so-called "New World," secularism seems like a thin and flaking coat of paint slopped on some very old and strange things. This extends to crime stories, as elements of the occult often arise on British police blotters, but they just as often fade away, without resolution.
I think of
The Guardian
headline
from last June,
Children trafficked into Britain for sacrifice rituals
; a BBC
story
from January, 2005:
Dead sheep found in "occult star"
("the sheep were found on Sampford Spiney on Dartmoor with their necks broken and their bodies in a pattern sometimes associated with the occult"); and
from
last July:
Occult link to drowned councillor
. ("Detectives investigating the death of a Cornish parish councillor have confirmed they are looking at possible links with the occult. They believe 56-year-old Peter Solheim, from Carnkie, was interested in black magic.")
In 1996, a young environmentalist named
Nicholas Gargari
plunged screaming to his death from a cliff in the East Sussex town of Lewes. The walls of his home were found papered with torn Bible pages, and scrawled upon them was the message "God help me I have been cursed." (Though reputedly not in Gargari's hand.) Detectives learned from his friends that, shortly before his death, he had received a "cow's heart pierced with nails and a fetish entwined with a lock of human hair." Suspicion fell upon Gargari's unlikely friendship with a Satanic fascist named Alex Smith, who "attended the inquest and sat grinning at the bereaved sister and mother, displaying his inverted cross tattoos,and protected by a burly looking body guard." Under cross examination regarding his Far Right ties, Smith became verbally abusive, and needed to be physically ejected from the courtroom. Gargari's death could not be ruled either a murder or a suicide, and the Coroner recorded an open verdict.
In the same town of Lewes, six years earlier, a local scandal of sorts broke when it was revealed that a Satanist named Rosemary Barratt worked as a secretary inside Lewes Police Intelligence Unit. Barratt "had long fostered a deep interest in severe sado-masochistic sex, having relations with literally dozens of magical masters," seeking painful degradation while possessed by a spirit named "Absolon." Local Wiccan sources alleged that two police officers were members of a dangerous Satanic group conducting rituals atop limestone cliffs. The Chief Constable for Sussex, Paul Whitehouse, "refused to state whether he personally knew of Satanists inside his force, though he "did point out that it was not an offence to be a member of this type of organisation."
But before we go too far down that road, we should take a step back and examine another legal occult organization, because it's hard to talk seriously about the British police force without talking about Freemasonry. Unfortunately, for many people, it's hard to talk seriously about Freemasonry at all.
In his
Inside the Brotherhood
, Martin Short details the story of Chief Inspector Brian Woollard, whose distinguished career included 14-years with Special Branch attached to the Bomb Squad, royal protection, and armed personal detective to Home Secretary Roy Jenkins. Woollard's career effectively ended when he was posted to London's Fraud Squad. As Short writes, "it was there that he first sensed the power which Freemasonry seems to have over law enforcement in London."
Assigned to commercial fraud, Woollard was assigned a sensitive inquiry which involved tape recorded conversations describing police officers do favours for fellow Freemasons. Handing Woollard the case, his supervisor, whom Short calls "Grimm," said "I don't know which lodge you're in." When Woollard replied he belonged to no lodge, Grimm appeared surprised, and told him to complete the task in a week.
The recordings showed evidence of blackmail, and Woollard sent the tapes off for forensic testing. Grimm was apoplectic that the names of "innocent policeman" might be produced in court, and subjected Woollard to the tightest scrutiny of his career. Soon there was so much distrust the two officers could no longer work together, and Woollard moved to another section of the Fraud Branch. (Months later, he heard the case he left in Grimm's hands was closed with a decision of "no further action.") He was handed a case of public sector corruption involving inflated payments to building contractors, and soon found his work obstructed by police officers in his own department who belonged to the same lodge as subjects of his investigation in the building works department.
Woollard persisted until he was moved right out of the Fraud Branch, and was replaced on the corruption case by a Freemason. He was ordered by a Masonic supervisor to have a psychiatric evaluation regarding his delusion at seeing Masons everywhere. He was demoted to uniform, even though he hadn't had one for 20 years, and assigned to a station where all five officers above him in the chain of command were Freemasons. When some newspapers picked up the story of his humiliation by the Masonic fraternity, Woollard found his case files disappearing from a locked administrative room overnight. One long-serving, sympathetic constable reported that "everyone knew the theft was part of a Masonic plot to discredit Woollard."
Masonic plot
. There are two words to get you laughed right out of the respectable Left, Right or Middle. But as it often goes with things many people find hilarious, when you peel away the ridiculous crust, there's not a great deal to laugh about.
In
The Arcana of Freemasonry
, Albert Churchward writes that "Freemasonry in all its degrees, from the first to the thirty-third, is the old Eschatology of the Egyptians - or the doctrine of final things":
The casual brother does not trouble his head about these things; the majority look upon Freemasonry merely as a sort of Brotherhood for social intercourse and charity. Up to a certain point these views are correct.... But there is a higher view. Freemasonry means much more than this. In Freemasonry we have many mysteries, handed down to us from remote ages.... This knowledge can be obtained only in one way, and that is by mastering the old writings of the Egyptians and the glyphs of the Stellar Mythos people...because by that, and that alone, can the origin and meaning of all that is attached to the term "Brotherhood of Freemasonry" be found.
The corruption and compromises Brian Woollard discovered could be said to be those of the "casual brothers." Petty crimes, unconcerned with Set and Horus and the doctrine of final things. But speculative Freemasonry is the core of the Craft, and its infusion of all layers of British authority presents opportunities for a different order of criminal behaviour.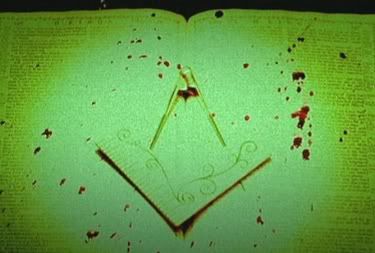 In its
investigation
of
David Myatt
and the occult-fascist axis, the magazine
Searchlight
quotes a bulletin from Combat 18 which attempts to disavoy the encroachment of Satanists upon British neo-Nazism. "The Fuhrer would turn over in his grave," it reads. "Satanists are dirty scum who use this bullshit as a front for child molestation." The bulletin also called for the boycott of another Satanic fascist and Myatt associate, Stephen Cox, "alleging that he peddles illegal child porn movies."
Searchlight
continues:
Cox, a close political ally of Myatt, runs the fraternity of Balder, another Satanist group, formed in 1990. Like the Order of Nine Angles, the Fraternity of Balder is dedicated to Aryan living and offers physical and mental training alongside an extensive political and Satanist library. During the 1980s Myatt lived alongside Myatt in Church Sutton and worked as a teacher.

Balder, which emphasizes male-bonding rituals, is the public face of Cox's Satanism. A more secret and sinister organisation is the Fraternitas Loki.... According to its own propaganda: the new order succeeding Ragnarok will not arrive without intervention of the Dark Twin: the ambivalent, bisexual, resourceful, daring and handsome Loki."

Its literature reveals the underground nature of its activities. "Unlike other matters in Balder the Fraternitas Loki is quite covert as was the case with the original Black Order of the closing years of WW2 and the esoteric war of post 1945 - a subterranean reality and unknown to all but a few.
Cox's portal to his more respectable front, the Arktion Federation, can be found
here
. The home page contains the "Important Notice" that, "although our work is concerned solely with European spirituality and heritage," Arktion is neither political nor racist. "If you read or hear of anything by an individual or group contradicting these facts please do not worry: it is merely an infantile and malicious lie by sad and sick minds. We pray they may recover from their illness and see the light of truth and human fellowship."
A link to the Fraternity of Balder - called the "Jarls of Baelder" - and information pertainting to the Fraternitas Loki is on the top menu.
Most interesting is Cox's lengthy
biography
. Along with "teacher," "author" and "philosopher," is listed "Freemason." And quite an accomplished Freemason he is:
[O]n the Summer Solstice of 1991 he was initiated into British Freemasonry in his Mother Lodge within the Masonic Province of Berkshire in the United Grand Lodge of England. Since then he has worked his way through the various officerships of the lodge to rise to have the honour to become the Worshipful Master of his Lodge in 1999-2000 (which is always a one year appointment in any lodge). In year 2000-2001 he served his Lodge as the Immediate Past Master. And then in 2001-2002, and again in 2002-2003 and for the 3rd., year 2003-2004 was appointed its Assistant Director of Ceremomies (a monthly duty), and its Preceptor of the Class of Instruction (a twice monthly duty).

He has written and delivered to the Class a number of unique lecture papers on the symbolism, mysteries, history and spiritual philosophy of different aspects of the three degrees of Craft Masonry with regards to the Emulation Ritual. He has also written a book of guidance for Stewards and newly raised Master Masons. He offers private tuition and meetings for officers of the Lodge to assist them in their progress and for newly made Masons and Stewards. Free tours of the Berskhire Masonic Centre and its lodge rooms and temple, with an introduction to Freemasonry, its history and symbolism are given by him to his students and friends from around Europe.

In October 2003 he was elected by the Lodge members to be Master Elect to serve as Worshipful Master of his lodge for a 2nd. time (for the year 2004-2005).
This suggests the hypothetical situation of a Masonic policeman being asked to investigate his own lodge's Satanic "Worshipful Master."
The Order of Nine Angles'
A Gift for the Prince
states that "human sacrifice is powerful magick":
The ritual death of an individual does two things: it releases energy (which can be directed, or stored - for example in a crystal) and it draws down dark forces or "entities." Such forces may then be used, by directing them toward a specific goal, or they may be allowed to disperse over the Earth in a natural way, such dispersal altering what is sometimes known as the "astral shell" around the Earth. This alteration, by the nature of sacrifice, is disruptive - that it, it tends toward Chaos. This is simply another way of saying that human sacrifice furthers the work of Satan.

...

There are three methods of conducting an involuntary sacrifice: 1. by magickal means (e.g. the Death Ritual); 2. by some person or persons directly killing the sacrifice(s); 3. by assassination.
I haven't forgotten Jean Charles de Menezes. Nor that a motive to his killing, if there is one, most probably resides in a place that would seem to us like madness.
What we see in British Freemasonry is an occult organization with a political inclination towards the Right and even Far Right, with deep roots in both the Satanic and the law and order fraternities. One has the motive, the other has the means.
Perhaps sometimes, the occult elite's horrification of their dumb, useless eaters doesn't require the elegance of programmed assassins and useful idiots. Perhaps sometimes, it's as simple as walking up to a man and shooting him seven times in the head. Because random acts of violence are now public policy. And what energies are released by that? Which dark entities are drawn down?
Sometimes, all it takes is a handshake.